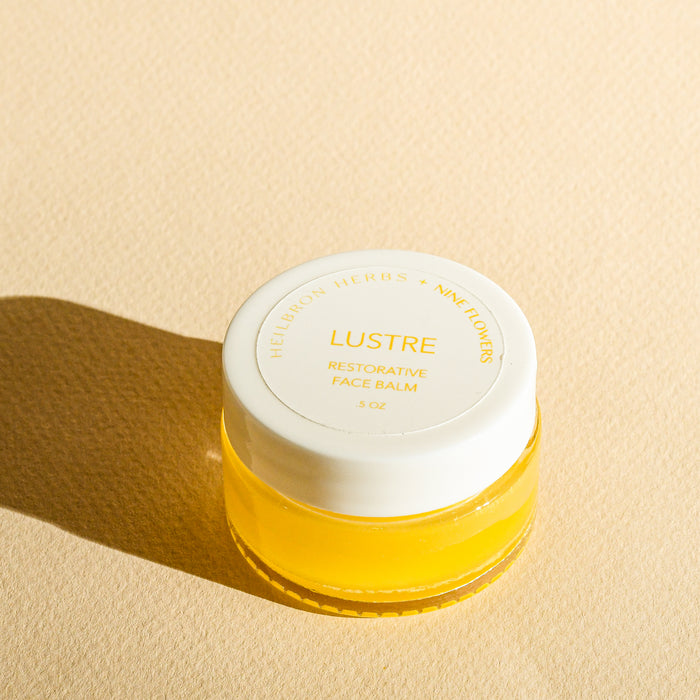 Lustre Restorative Face Balm
Sold out
Original price
$36.00
-
Original price
$36.00
Lustre Restorative Face Balm is a deeply nourishing and restorative waterless moisturizer to seal in hydration and provide added skin protection. Botanical extracts of chrysanthemum, celosia, marshmallow, and astragalus are infused in the highest quality blend of oils to support tissue repair, soothe and hydrate, and cool and calm heat to settle redness and minor breakouts. A high percentage of raspberry and cranberry seed oil provides protection from free radical damage, and Appalachian beeswax helps to create a protective barrier for the skin. A daily moisturizer for dry and sensitive skin types, and a favorite for exposure to the elements during harsher seasons.
Use Instructions: Apply a very small amount of balm (a little goes a LONG way) to clean, damp skin, preferably after moisturizing with face oil. Focus on areas that are dry or need extra protection from the elements. 
Ingredients: Jojoba oil, sunflower oil, macadamia nut oil, raspberry seed oil, cranberry seed oil, beeswax, plant extracts of chrysanthemum, celosia, marshmallow, astragalus
Contents: 0.5 oz. in glass jar.