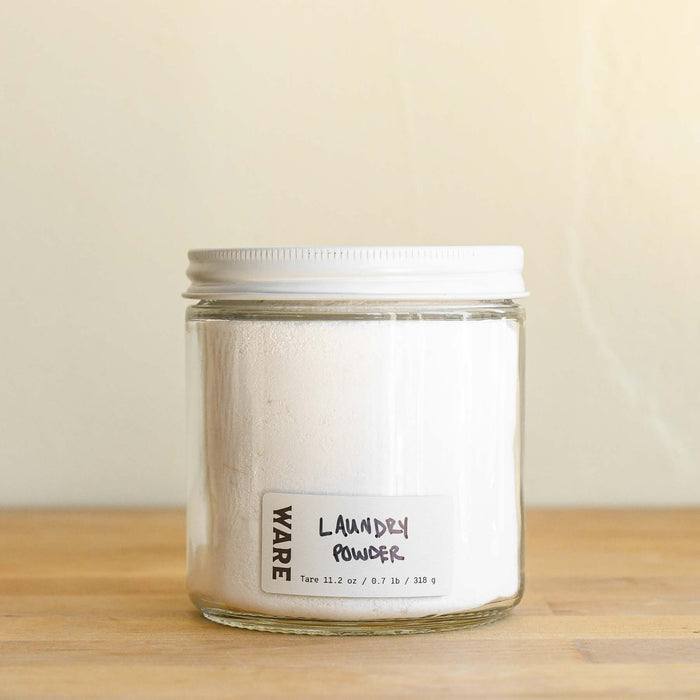 Rosemary Laundry Powder
Original price
$2.00
-
Original price
$60.80
No creepy chemicals or synthetic fragrances here! In fact, even the rosemary essential oil is an active ingredient, as it freshens by killing bacteria in funky clothes rather than covering up the smells. If you do the math, which we did, it comes out to ~66¢ per load.
Made in small batches in Brevard, NC, this detergent is compatible with both HE washing units and septic systems. Loving the laundry powder? Check out this Dishwasher Detergent Powder and Toilet Bowl Sparkle made by the same folks!
A pound (16 oz) of product offers 20-23 medium loads of laundry, depending on settling. 
Use Instructions: Add 1 tbsp for your average load of laundry, or up to 2 tbsp for large, dirty loads (think: cloth diapers kind-of dirty). HE and standard machine compatible. Wash clothing as you normally would and line dry when possible—major source of energy savings!
Ingredients: Sodium carbonate, sodium bicarbonate, sodium tetraborate, cold-pressed soap (distilled water, extra virgin olive oil*, coconut oil*, sustainable palm oil*, castor oil, sodium hydroxide, shea butter*, lavender*, peppermint*, eucalyptus*, pure essential oils: lavender*, peppermint, eucalyptus ), pure rosemary essential oil; *Organic ingredient
Contents: 16 or 32 oz. (by weight) placed in a glass jar or recyclable paper bag.
Want to try the laundry powder? Select "Sample" for 3 tablespoons placed in a recyclable paper pouch.
Please note: Measuring scoop not included.