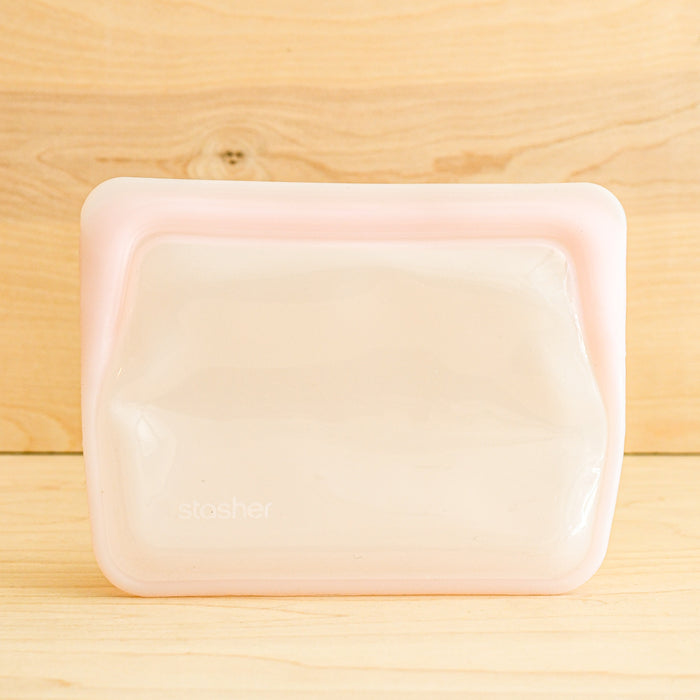 Stasher Mid Stand-Up Bag (Original Size)
Original price
$22.00
-
Original price
$22.00
With a leak-free Pinch-loc™ seal, Stasher bags are the only alternative to plastic baggies on the market that actually hold water. Pun intended. They're dishwasher & microwave safe, can be baked, boiled, or frozen, and are endlessly reusable.
Stasher bags are handy for far more than food. We use them to keep our toiletries together during travel—with the approval of your local TSA agents. They are amazing for keeping sand & water off your phone at the beach or by the lake. You and your kids can have the most organized backpacks on the planet thanks to these bad boys (our claim, not Stasher's). The applications are as far-reaching as your creativity allows. You can even write on them with a water-based paint pen to remember what, when, or for whom you stored their contents.
See last image for visual comparison of entire Stasher stand-up collection (Mini, Mid, Mega).
Materials: 100% Pure platinum silicone (medical grade)
Dimensions: 7½" x 7 x 3" | 56 fl oz.
Tare Weight: 24½ oz.
Care: Throw in the dishwasher or wash by hand—just be sure to wipe the inside dry before storing. It's that easy. Also, best not to test with sharp objects if you like keeping liquids in or out with your Stasher bags.