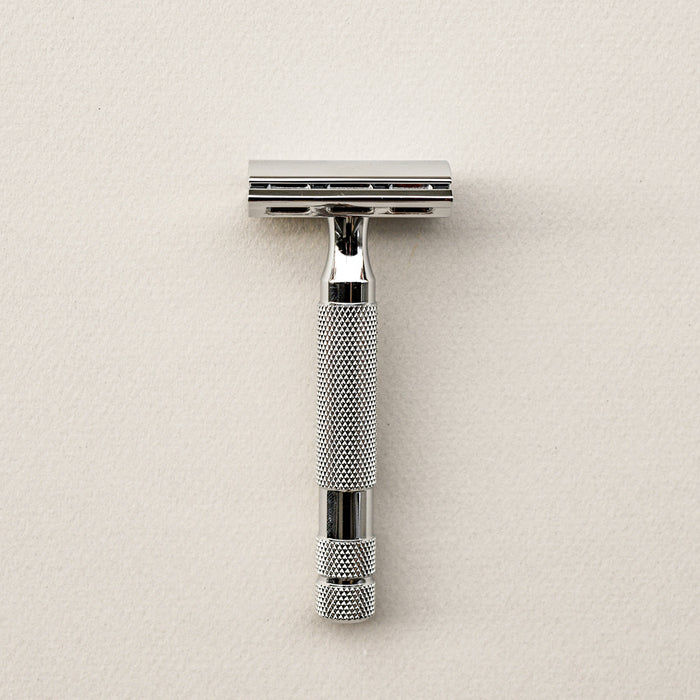 Rockwell 2C Safety Razor
Original price
$40.00
-
Original price
$40.00
Plastic-free and minimally waste-producing, these razors are a great way to cut out a major plastic culprit in the bathroom. No more plastic razors or razor heads. Just metal. Plus, they help eliminate bumps, razor burn, nicks, and irritation.
These razors are yet another example of reviving the old way of doing things, before convenience and plastic were King & Queen, in order to update for an increasingly sustainable lifestyle.  The 2C Safety Razor is perfect for budget-conscious beginners, with Rockwell's "beginner setting" (R1) making it nearly impossible to cut yourself shaving.
We highly recommend the Rockwell Razor Stand to accompany your razor, allowing for water to properly drain from the razor head, preserving the blades for longer. We even have little metal Razor Banks where you can tuck your Double-Edge Blades when they lose their sharp. And bring them back to us to recycle! This razor is also compatible with all universal double-edge razor blades.
⠀⠀⠀⠀⠀⠀⠀⠀⠀
Dimensions: 3½" x 1½"
Contents: One (1) Rockwell 2C Safety Razor and five (5) Rockwell razors (with Sizes 1 and 3 on alternating sides)*.
*Size 1 makes it nearly impossible to cut yourself. Size 3 is a closer shave and better for thicker hair or dense patches.