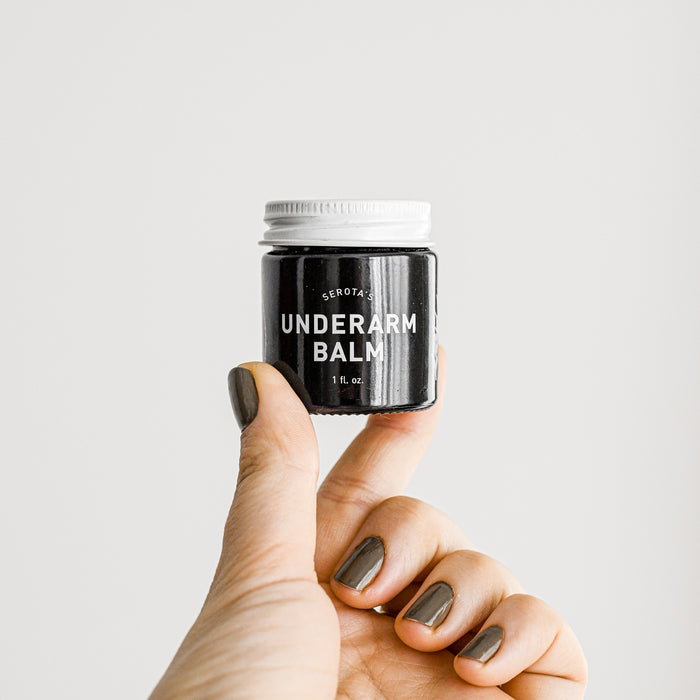 Underarm Balm Deodorant
Sold out
Original price
$19.00
-
Original price
$19.00
We've tried a LOT of different natural deodorants around here, and this little guy wins all our awards, because it actually works. That should not be a novel concept, but in the world of non-toxic, low-waste deodorants, it's a freaking anomaly. It's no wonder this is our most-requested personal care product. You all get it.
Underarm Balm smells strongly of mint and eucalyptus (and contains both at rather high concentrations, a warning to those with essential oil-sensitive skin*). A fresh, natural scent for all—get your gendered descriptions out of our armpits.
Now available in our Refill Station! (It lives in the fridge in the back, so just ask for it.)
Ingredients: Sodium bicarbonate, shea butter, grapeseed oil, vegetable glycerin, essential oils (peppermint, eucalyptus, rosemary, tea tree, lavender)
Use & Care Instructions: Serota's says: "1) Use a finger to scoop out a wee dab. 2) Distribute the dab between your fingertips. 3) Apply to each underarm." Store in a cool place. If separation occurs, mix and stick in the freezer for a few hours to re-set.
Contents: 1 fl. oz deodorizing gold in a recyclable glass jar. TSA-friendly!
*PLEASE NOTE: This product is effective because of its high concentration of essential oils, but causes sensitivity for some. Please test on your skin with far less than you think you need. We recommend starting by diluting with a body oil or lotion while you determine its compatibility with your skin. A reminder that we do not offer refunds or exchanges on personal care products, because we can't guarantee they work for everyone. We just know they work well for us—and the vast majority of people we test them on before bringing them into our shop.*
Have highly sensitive skin? Check out this gentle yet effective Deodorant Stick.