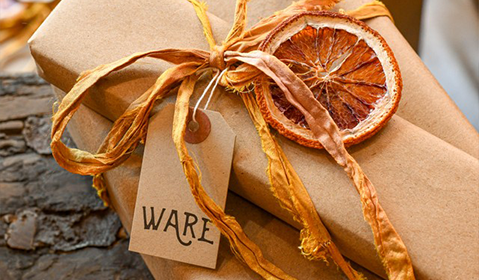 The Sustainable Holiday Gift Guide
We've all been there...
It's the week before Christmas. You're in a serious time crunch. There are still a few people left to get gifts for, but you have no idea what to get any of them!
We empathize.
To make things a little easier on you, we decided to put together a gift guide featuring products that we think would make great gifts, and we've broken them up into categories based on a person's possible interests! 
Welcome, friends, to our Holiday Gift Guide...
The Bearded Buddy
For the friend who has a lot of facial hair and loves to take care of it, these products will be great:
1. Rockwell 2C Safety Razor: Razors today produce so much waste. They're all made of plastic and their plastic replaceable heads need to be switched out so often. That's why this safety razor is such a great pick. It's perfect for budget-conscious beginners, and is plastic-free, the perfect way to cue out a major plastic culprit in the bathroom. 
2. Shave & Face Soap: This shave soap is a great pick for those with sensitive skin because, since it's made with traditional techniques, there are no synthetic ingredients used (meaning it won't dry your face out). Enriched with peppermint and rosemary, it also helps to control inflammation while keeping your skin bacteria-free.
3. Beard Oil: Good for your skin and your hair, this popular beard oil stimulates your skin's natural oils to keep your hair and face healthy and moisturized, without being excessively greasy. Formulated for all beards, both small or large, this is a great pick for every beard-wearing pal.
4. Shave Brush: This exceptionally soft shave brush pairs beautifully with the shave soap we mentioned above. Its bristles work to create a luxurious lather, allowing for a smoother, closer shave.
The Coffee Enthusiast
For your good friend who always seems to have a cup of coffee in their hand (yes, this is their third cup of the day– what of it?), why not treat them to something they'll use everyday?
1. Whole Bean Coffee: This deliciously delightful light/medium coffee is roasted right here in Asheville, NC by our friends at Cooperative Coffee Roasters. 
2. Ceramic French Press: This beautiful french press is more than meets the eye. The ceramic body maintains a consistent temperature throughout the brewing process, producing the perfect full-bodied brew, every time.
3. Reusable Coffee Filter: One of the easiest ways to start reducing waste from your coffee routine is by replacing disposable coffee filters with reusable ones. These cloth filters come in a variety of styles designed to fit in the brewing apparatus of your choosing. 
4. Handmade Mug: Perfect for the morning tea, midday brew, evening wine, and everything in between, a beautiful, locally handmade mug always makes a great gift.
5. Felt Coaster: The aesthetically pleasing coasters of our dreams. Need we say more??
The New to Zero Waste Starter Kit
For the friend who is totally new to the zero waste game, get them a stash of sustainable, tried-and-true best sellers.
1. Reusable Facial Rounds: These super soft, reusable facial rounds are a staple for all of us here at Ware. They come in a set of 20 pads (10 cotton and 10 bamboo) and a wash bag (that we also sometimes use for buying veggies from our local co-op). We can't recommend these enough.
2. Underarm Balm: We've tried SO MANY different natural deodorants over the course of the life of Ware, but this little guy wins all of our awards because it actually works. So it's no surprise to us that it's our most-requested personal care product. 
3. Bamboo Pot Scraper: Great for pots, but also for baking and cleaning... from scraping the batter bowl clean to removing spilled sauce from your glass-top stove, to helping you peel sticky labels off of your jars, the scraper can do it all. It's honestly life-changing.
4. Dish Washing Block: Another great plastic-free option that does it all. This block of solid dishwashing soap is a great first step towards having a plastic-free kitchen. Its rich lather cuts through grease wonderfully, but it also does just about everything else: cleaning off a caked-on stovetop, stain treatment for laundry, etc. 
5. Dish Brush with Replaceable Head: Made with stiff agave fiber (vegan) plant bristles, the dish brush is a customer favorite. Each brush head lasts for 1-6 months (depending on frequency of use and intensity of job), then can just be replaces with one of the replaceable heads.
6. Eco-Sponges: These biodegradable sponges are marketing for use in the kitchen, but the gentleness of the plant material and effective scrubbiness that the back of the loofah sponge provides makes them just as effective in the shower. Our favorite part about them (obviously) is that they can be fully composted, so you can bury it in your yard or garden when you're done with it.
The Self-Care Guru
For the good friend of yours who loves to pamper themselves, give the gift of self care.
1. Bath Bomb Cube: We've never met a more moisturizing bath bomb. No, really. Prepare for one of the best baths of your life. These best sellers are locally made right here in Asheville, NC with wholesome ingredients. Each one comes beautifully wrapped in compostable waxed paper and tied up with jute twine. 
2. Bath Brush with Replaceable Head: Ideal for gentle exfoliation or used as a dry brush before a bath to increase blood circulation and stimulate the lymphatic system, promoting drainage and detoxification. When the brush head meets the end of its life, it can be detached and replaced with a new one.
3. Herbal Bath Soak: The bath soak of your dreams to calm your muscles and nerves alike. And with three different scents, there's a perfect one for everyone.
4. Silkwater Bar Soap: These rice milk bar soaps are made locally here in Asheville in small batches to ensure the highest quality product. Gentle and luxurious, these soaps would make a great gift for just about anyone.
5. Body Oil: We've been covering ourselves in this oil post-shower since we got it in the store. Made with sesame oil, this body oil is deeply moisturizing for dry skin and super beneficial for a body that runs on the cold side.
Still not seeing anything for those last few folks on your list? Click here to take a peek at some of our newest arrivals.