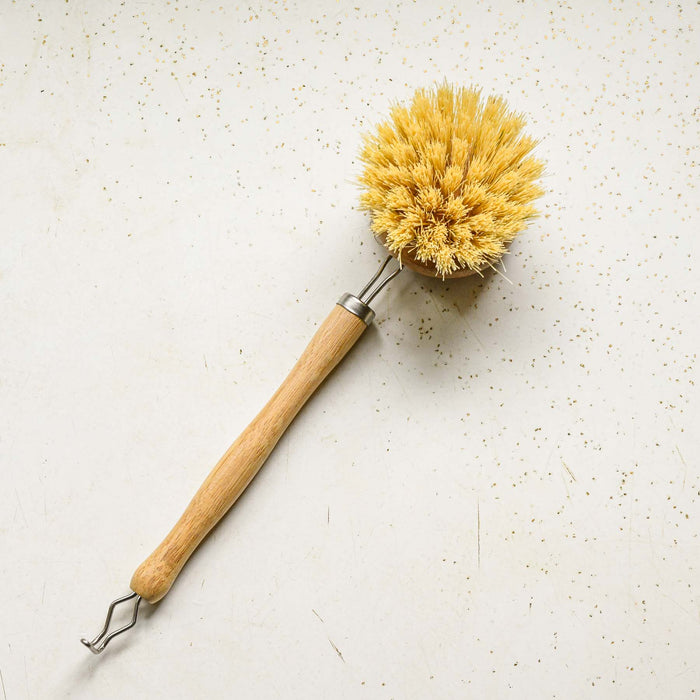 Dish Brush with Replaceable Head
Original price
$7.00
-
Original price
$9.00
A customer-favorite, tried and true. Once your wear out the head of your brush, simply replace just the head rather than having to buy a whole new brush altogether. 
Materials: Beechwood handle, agave plant bristles, metal hardware
Dimensions: 9" L handle & head; head is 1¾" D brush back (fits Lola brush as well)
Care & Use Instructions: Use as you would any dish cleaning apparatus: soap up and scrub. Allow to dry when not in use (hand features metal loop for easy hang-drying). Each brush head can be used for 1-6 months, depending on frequency of use and intensity of job. Do not leave any of the wood parts soaking in water, the wood will absorb water and it will cause the wood to swell and crack, or the metal pieces to come out. 
If you find your brush head is not drying between uses, dip it in vinegar occasionally to help kill bacteria. 
The handle should last for a couple years with normal usage. Don't apply undue pressure on the handle or it will break.
Replacing the brush head: The first time, it is a little stiff to bend the wires and you may need to use a pair of pliers to loosen it (use caution). We've found great luck with using a fork to slide the wire down too. The subsequent times, you can use strong fingers to squeeze the wires together, loosen the metal grip, and pop off the brush head. Just slide a new brush head on and push the metal grip that holds it tight back up. Voilà.
Please note: The replacement head has been redesigned to have longer bristles and a thicker bamboo head that is less prone to cracking. It is designed to last longer and create more suds when you wash dishes. The past and current designs are interchangeable on your existing brush handle. See last image of the new design.