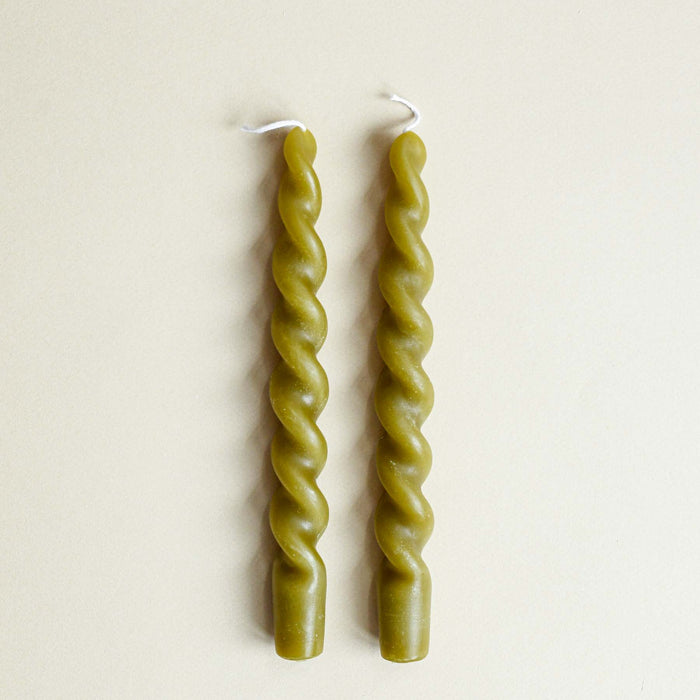 Beeswax Taper Candle Pair
Original price
$24.00
-
Original price
$30.00
Handmade beeswax candlesticks with a unique twist (pun intended), and in some of our favorite hues. Find the candlestick holders shown in the first image here. When beeswax candles burn, they neutralize pollutants in the air, improving the quality of the air we breathe and aiding in the elimination of dust and odor. Candle dye is plant-based, cruelty-free, and vegan.
Pro-tip for if candles wobble slightly in their candlestick holders: Briefly put a flame to the base of the candle and adhere the melted wax to the holder itself. Voilà!
Dimensions
Spiral Taper: ~8
" H x 2.2cm base
Stacked Taper: ~12" H x 2.2cm base
Contents: Set of two (2) beeswax taper candles with cotton wicks.
*Please note: These pieces are made by hand of natural materials. Variations in size and coloration are normal and desirable—it means humans touched them!
Loving the beeswax idea but want a candle that stands on its own? Check out this Rolled Honeycomb Pillar Candle. Looking for celebration (birthday) candles? Check here!