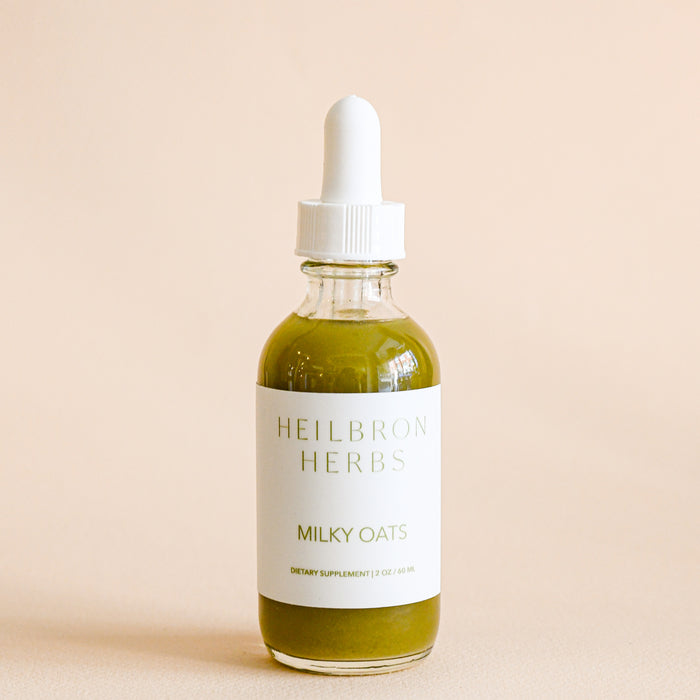 Milky Oats Tincture
Sold out
Original price
$32.00
-
Original price
$32.00
A perfect food for the nervous system, milky oats are unripe oat seeds, harvested when they contain a white, latex-like liquid high in vitamins & minerals. Milky oats are a natural remedy that supports the body's healthy response to stress—it is well suited for those struggling with chronic stress or occasional sleeplessness and have frazzled, frayed, or exhausted nervous systems. Milky Oats should be taken as a slow build and gentle repair recommended for long-term use. 
All herbs are entirely grown, dried and blended in North Carolina on farms committed to sustainable and regenerative practices, without the use of any chemical inputs.
Use Instructions: Take one dropperfull in a glass of water two or more times per day. 
Ingredients: Fresh milky oat tops and organic cane alcohol
Contents: 2 fl oz. in a glass bottle with glass dropper
Looking for additional stress (& immune) support? Check out this Reishi Double Extraction.
These statements have not been evaluated by the FDA. This product is not intended to diagnose, treat, cure, or prevent any disease.