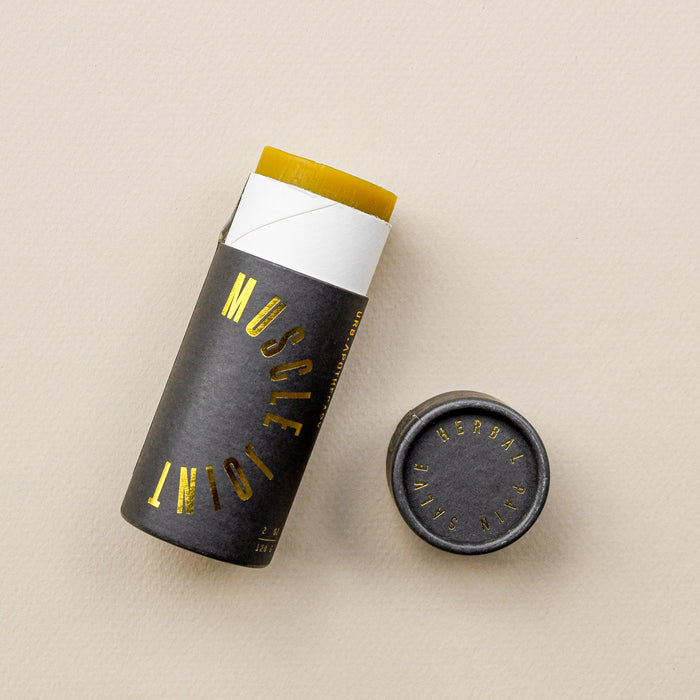 Muscle Joint Salve Stick
Original price
$30.00
-
Original price
$30.00
Joint rub or solo rub. Either way, we're covered in this salve. We put this stuff on our knees after every run. The active constituents of herbs in this salve absorb into the skin and encourage the healing of injured muscles and joints. Along with this Repair Salve, this has upped our first aid kit game exponentially. 

Use Instructions: Massage salve into sore muscles, joints, bruises, sprains, arthritis, etc. (NOTE: Avoid applying to broken skin and avoid your face. Wash your hands thoroughly after applying. Push up from the bottom. If the salve seems a little stuck, rub the tube in your palms to provide some heat and push up lightly.)
Ingredients: sunflower oil* and castor oil* infused w/ cayenne*, ginger*, comfrey*, and arnica flowers*; beeswax, menthol crystals*, turmeric CO2*, eucalyptus*, vitamin e (non-gmo)
*certified organic ingredient
Meet the Ingredients: 
Arnica is known to reduce healing times by stimulating the migration of white blood cells to an injured area while increasing the movement of fluid buildup and decreasing swelling of the injured area.
Comfrey promotes and speeds up the healing of tissue and bone while reducing swelling.
Cayenne & Ginger both contain special properties that aid in relieving pain and inflammation by affecting your nervous system. Substance P is a neurotransmitter that relays information and results in what we call pain. Capsaicin, a major constituent of cayenne peppers, blocks substance P and therefore reduces pain.
Menthol Crystals are a natural product that originates from corn mint essential oil. Menthol crystals come from freezing the base concentrate oil. Menthol crystals are cooling, refreshing, and have a pleasantly strong minty aroma and aid in relieving pain.
Turmeric Supercritical CO2 Extract is unique in that it contains active curcumin, an essential element that fights inflammation and is helpful for arthritis and joint care. It can also aid in muscle pain.
Castor Oil possesses anti-inflammatory properties that make it an excellent massage oil for relieving arthritic joints, nerve inflammations, pain and sore muscles.
Contents: 2 oz. of salve in a biodegradable cardboard tube.
These statements have not been evaluated by the FDA. This product is not intended to diagnose, treat, cure, or prevent any disease.
We will always take back compostable packaging if you don't have access to a commercial service.