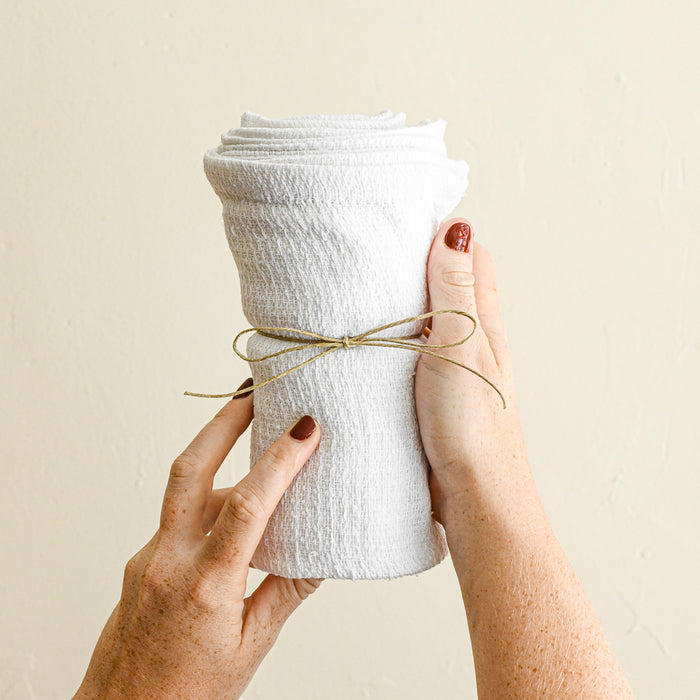 Rag Bundle
Original price
$9.00
-
Original price
$9.00
We're confused by the "invention" of the reusable paper towel. Rags have been around... a while. From spills to drying your hands, there's no such thing as too many rags when you're ditching single-use paper products. Stock up.
We get a lot of questions about how to keep kitchen and hand towels looking presentable. Here's the trick—don't use them on anything that isn't recently clean (i.e. hands and dishes). Need to wipe down the counters? Rag. Spilled water (or wine) on the floor? Rag. Need to wipe out your well-seasoned cast iron skillet? Rag. These babies get dirty so nothing else has to. It's science, or something like it.
The last image is the rag system we use in the store—our Laundry Tower! We do sell this set in store, just not online as it's too bulky to ship. Reach out if you're interested in buying one locally.
Contents: bundles contain six (6) 100% cotton terry cloth rags

Dimensions: 19" L x 15" W (before washing—will shrink, as is the nature of cotton)
Use & Care Instructions: Use for everything, wash and dry with anything. 
Please note:
 Our rags are now larger and a thicker terrycloth (more absorbent) than our previous style!