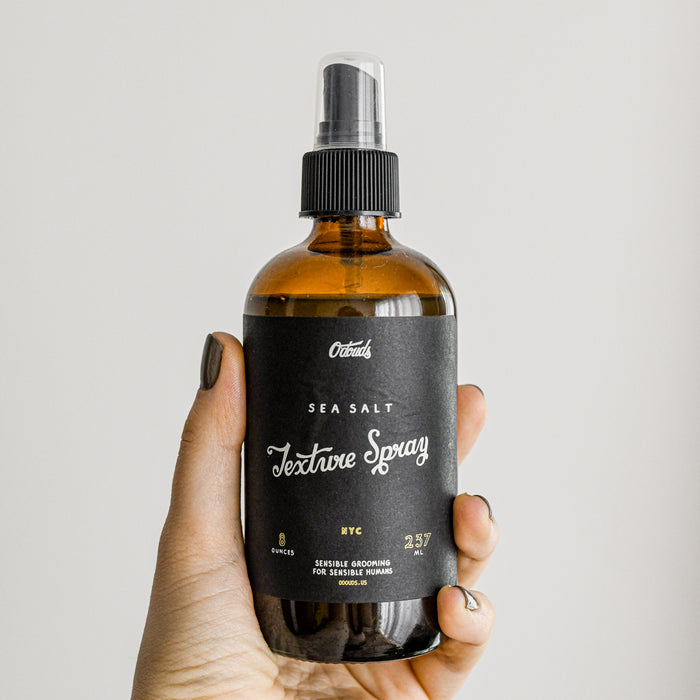 Sea Salt Texture Spray
Original price
$30.00
-
Original price
$30.00
Provide a lightweight grip, lift, and texture for loose, tousled, and worn-in styles on hair of all lengths. The natural oils provide definition while taming flyaways. Pairs lovingly with our favorite Pomade, Hair Oil, and Dry Shampoo. Nobody will know you skipped a shower or two.
Hold: Light | Finish: Matte | Scent: Green Tea & Bergamot

Use Instructions: Spray evenly into dry or damp hair. Use more product for increased performance. On short styles, you may wet the hair entirely with product for maximum grip and texture. Apply before blowdrying for heat protection, added volume, and more texture.
Ingredients: Water, sea salt, magnesium sulfate, glycerin, geg-40 hydrogenated castor oil, lavender oil, bergamot oil, orange oil, black pepper seed oil, may chang oil, palo santo oil
Meet the Ingredients: 
Sea salt adds gritty texture while helping to define and lock in styling. It absorbs excess oil, refreshes the scalp by increasing blood flow, and helps control dandruff.
Vegetable Glycerin is a lightweight yet highly effective moisturizer that maintains skin and hair moisture without adding any weight or shine.
Contents: 8 oz.