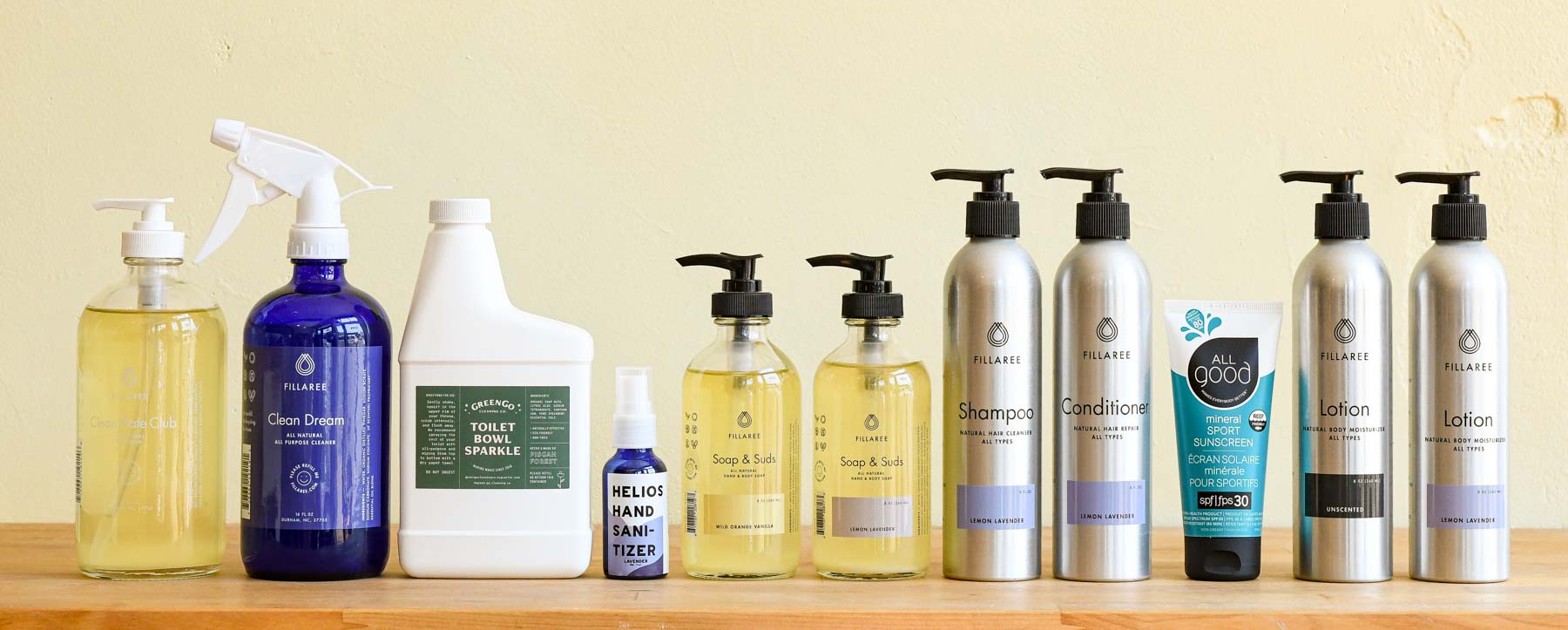 Refillin' Up: A Cost Savings Analysis of sorts
While there's the obvious benefit of not purchasing products bottled in plastic over & over, few people really crunch the numbers of the amount of money they'll save by switching over to refillable products. More green for everyone, really. 
Well, we did some crunching and compared the prices of what it costs to purchase our bottled products with the prices of what it would cost if you brought those containers back and filled them up at our Refill Station. Please keep in mind, the bottled prices are what they are because these are containers filled and sold with the intent to remain in use for many, many years to come. And the refill prices are what they are not because they are of any lesser quality (they work *exceptionally* well, actually), but because you're not having to pay the price of the container, label, labor of filling—you get the point. 
Take a gander below to see what we mean when we say you will be saving more than just plastic waste. You can also bring in any container you have—we're not picky over here.
See ya at the Refill Station (with your empty, clean & dry containers, because sanitation).

Curious about filling our products that aren't pre-packaged?
Epsom Salt: 3lbs (48oz) = $13.44
Castile Soap: 32 oz = $17.60
Aloe Vera Gel: 8 oz = $5.20
Dishwasher Powder: 16 oz = $7.20 ≈ 16 Loads | 32 oz = $14.40 ≈ 32 Loads
Laundry Powder: 16 oz = $15.20 ≈ 21.5 Loads | 32 oz = $30.50 ≈ 43 Loads
Liquid Unscented Laundry Detergent: 40 oz = $16 ≈  40 Loads | 64 oz = $25.60 ≈ 64 Loads | 128 oz = $51.20 ≈ 128 Loads
Liquid Lavender Laundry Detergent: 40 oz = $18 ≈  40 Loads | 64 oz = $28.80 ≈ 64 Loads | 128 oz = $57.60 ≈ 128 Loads
Oxy Boost: 16 oz = $10.56