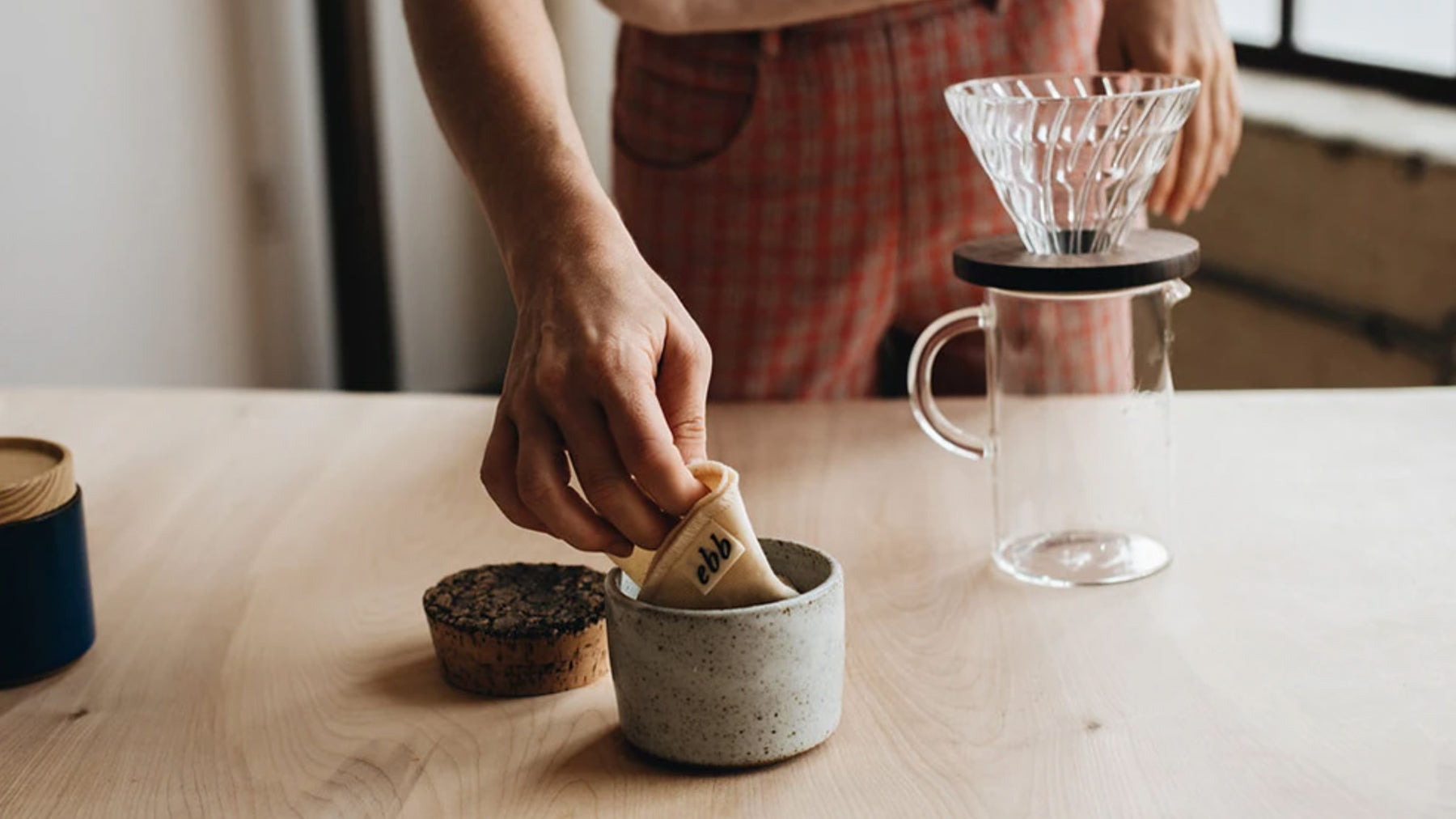 Reusable Coffee Filter Care
Drinking daily coffee to help beat the winter blues? Us too. Find some tips & tricks below from our friends over at GDS Cloth Goods on the care of reusable Ebb coffee filters to help get the best bang for your buck & to be more sustainable while you're at it. Our filter selection includes: Chemex 3 cup, Chemex 6-10 cup, #2 Pourover, #4 Pourover, Hario v60, and Aeropress.
New to reusable cloth filters? We've got you.
Ebb reusable coffee filters should last for about 90-120 uses, which is 3-4 months for daily use, and about a year for weekend coffee drinkers. Proper cleaning and storage of your Ebb filter will help it last longer and deliver a delicious taste.
Thankfully, cloth filters are easy to clean. At the end of each use, pull the filter from the dripper once it's cool enough to touch and shake the grounds into your compost bin. Then, rinse your filter in warm water, without soap. 
For consistent high quality brews, we recommend storing your Ebb filter in water and keeping it refrigerated between uses. After you clean it, place your wet filter in a small jar or other watertight container with water and keep this in the fridge in between brews. 
We know it sounds weird, but keeping your cloth filter in water prevents coffee oils from impregnating the fabric and imparting flavor over time. Simply letting your filter air-dry in between uses won't hurt it, but it can change the taste of your brew.
Some folks aren't bothered by this taste difference, while others prefer to prevent it. We say, you do you! Whichever storage method gives you the best coffee experience is the right one for you.
Here are our tips for keeping your Ebb reusable filter fresh and clean:
Rinse your filter within 30 minutes after brewing to prevent unwanted growth.

If storing in water, remember to change the water in your storage container with every brew, and to wash the container with soap once every week or so.

If you won't be using your filter for longer than a few weeks, take it out of water storage and hang dry or freeze it until you want to use it again.
Keep in mind that your Ebb filter will naturally change with time. It will pour more quickly when it's new, hit a sweet spot around middle-age, and start to drip more slowly toward the end of its lifecycle. Once your filter has reached this point, it's time to compost and replace.