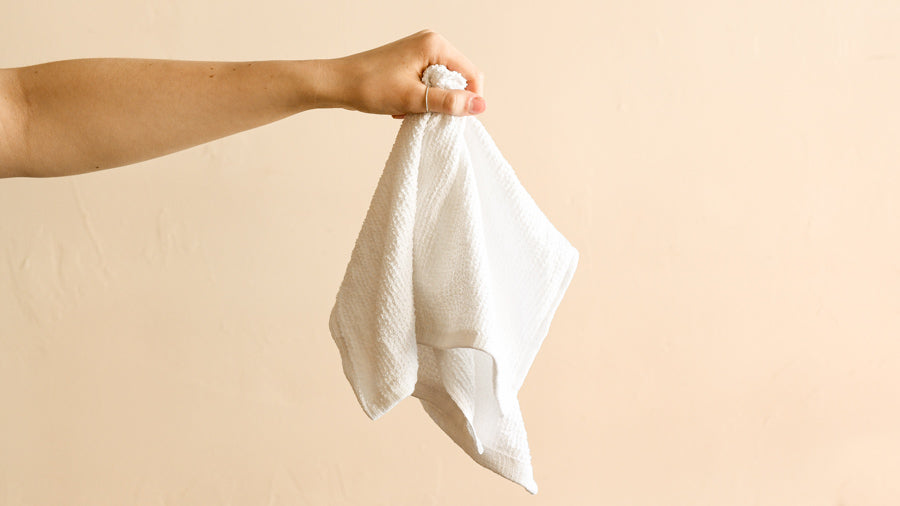 Unsustainably Overrated: Paper Towels
The overrated paper towel.
Pretty often, if a product we don't carry is requested enough, I'll look into adding it to our repertoire. Not the case with Unpaper Towels. I gave a rather thorough explanation for why not in this blog post, and would add that most of the folks I know to have actually ordered Unpaper Towels complained that they weren't particularly absorbent (or convenient to set up every time).

Anyways, so many of the applications for which we'd typically reach for a paper towel are what people human have historically done with *drumroll*... rags. I know. Earth-shattering innovation coming at you from Ware right now. Those old tee shirts that are too tattered to be reasonably resold by any thrift shop, towels with massive bleach spots that you don't want your guests to see - cut them all into consistent rectangles (I'll explain why this is key for some), and you've got yourself a rag. Oh, and whatever scraps you've got from the oddly-shaped parts of clothing scraps you can come drop in our textile recycling bin in the store!
I promise I didn't waste space in your inbox to introduce you to rags for the first time. I have a system (that is a combination of my mom's and my BFF's mom's) that is the key to my ability to go through only half a roll of paper towels since I moved into my apartment three+ years ago.
The system.

MATERIALS:
rags
"dirties" basket/bin/receptacle
"cleans" basket (optional)
Process:
Step 1: Collect
Become a hoarder of cotton rags. Whether cut up old towels/tees (not blended with poly!) or terry cloth rags from us, you want to have a LOT of these. I should say this more often, but the key to making sustainable lifestyle changes often lies in convenience. Having a ton of these on hand means you won't be limited by your laundry rotation and you'll maybe even be able to do a pretty full load of laundry that is just rags without having to add your underwear to the mix.

I find terry cloth works for *most* applications. For glass (windows and mirrors), you'll want old bed sheets (Like the crisp ones, not jersey knit. Got percale?) so you're not leaving lint on your mirrors and windows.
Step 2: Set up & locate
Location, location, location. Paper towels are convenient because they're THERE. On the counter or right under it. You will need a place just as handy for both your clean and dirty rags. I store my cleans folded and stacked RIGHT under my sink, if you have more room you could have a basket or bin or bag of them that might even negate the need for folding.
I have to fold mine to store them the way I do. This also why it's important for mine to be somewhat regular in size and shape. If folding gets tedious, this whole system falls apart. And it's hard to stack irregularly folded textiles.

For my dirties, I have a basket right next to the sink, with my recyclables bin, that allows me to ditch the used ones as easily as I grabbed a clean one. I like that the one I use is rectangular, as that not only maximizes storage capacity, but gives my plenty of edges to hang wet rags until they dry and can be knocked into the basket without molding (which would make this a smelly operation, among other issues).
Step 2: Set up & locate
Take your full basket of dirty rags and dump into the wash. If your basket is big enough, you can accumulate enough so that you don't mix these with your other laundry. This has the added benefit of meaning you don't have to stress about *what* you cleaned up with the rags. They are self-contained in their griminess.

simple.
Alternatives galore.
Make it convenient to not use paper towels. It's not much of a "trick", but it has certainly worked for me. Some products from Ware that might help you ditch paper towels and other disposable paper product (this is also pretty close to being a "best sellers" list):
If you're down here hunting for our beloved laundry tower in those pics, you'll notice it's not on our website. We sell it in the shop and can ship it with a couple extra steps - just reach out! An email to howdy@wareavl.com, a IG DM, or a phone call to 828-658-5588 will do the trick!