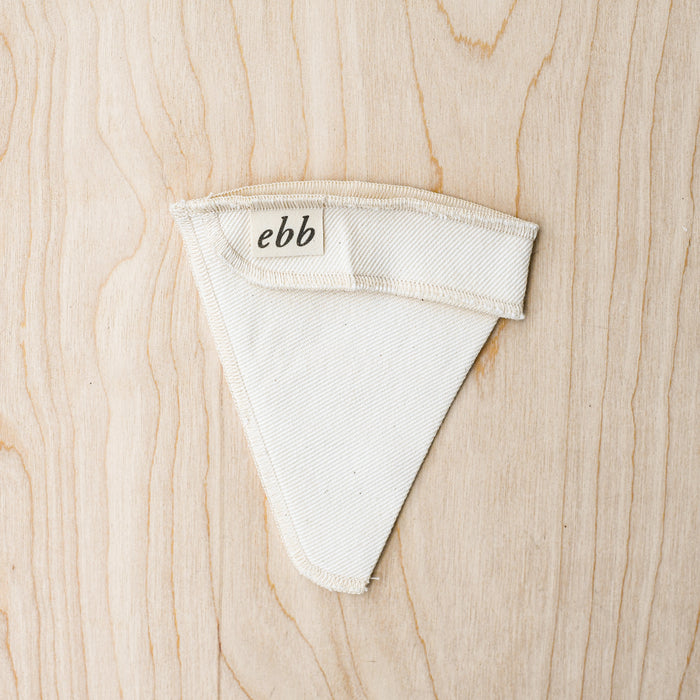 Ebb Reusable Coffee Filter
Original price
$18.00
-
Original price
$20.00
Ebb developed reusable cloth filters made with the same quality & care that you put into brewing. Each style is uniquely designed to work flawlessly with the corresponding brewing apparatus of your choice. For the appropriate styles, the flap holds the filter propped high, keeping it from drooping down and blocking your flow. Every filter is grown, woven & sewn in the US. 
Ebb reusable coffee filters should last for about 90-120 uses, which means 3-4 months for daily use, and about a year for weekend coffee drinkers. Proper cleaning and storage of your Ebb filter will help it last longer and deliver a delicious taste.

Material: 100% Organic cotton
Use & Care Instructions: Apply filter to your coffee-making apparatus. At the end of each use, pull the filter from the dripper once it's cool enough to touch and shake the grounds into your compost bin. Then, rinse your filter in warm water, without soap. At the end of its life, the filter is biodegradable in our backyard compost.
For detailed care instructions from the makers, like if you're the kind of person who notices subtle differences in the taste of oils from your coffee beans, check here. 
Contents: One (1) reusable filter in paper packaging (recycled, recyclable, and biodegradable)
Coffee drinker but prefer a French press? We've got this ceramic beauty for ya.