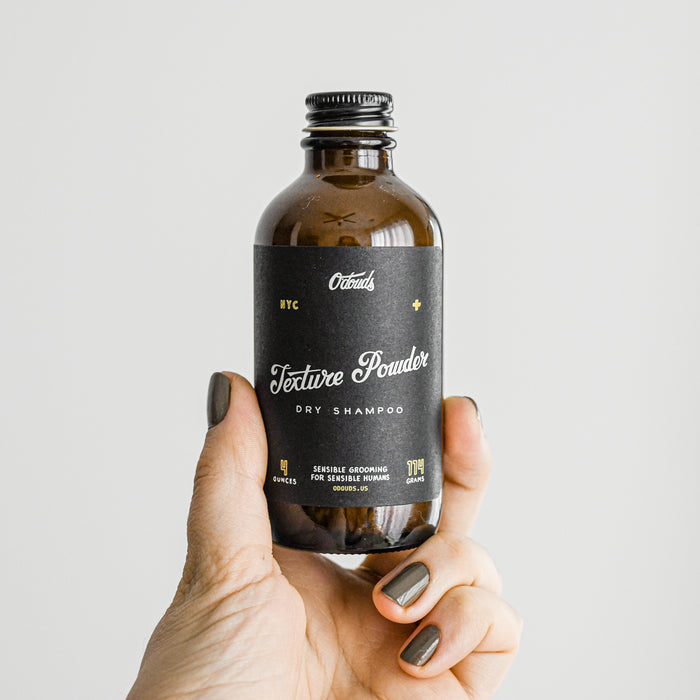 Texture Powder Dry Shampoo
Sold out
Original price
$24.00
-
Original price
$24.00
Reduce shine and work with your scalp's natural oils to revitalize hair with workable texture and volume. This powder can be used as a stand-alone styling product or as a "dry shampoo" to revitalize the hair on days you don't shampoo. We're big fans of using this to help with our scalp's oils and this Sea Salt Texture Spray to style our ends and in-betweens.
Hold: Light | Finish: Matte | Scent: Labdanum + Lime
Ingredients: Arrowroot powder, kaolin clay, shavegrass powder, labdanum oil, lavender oil, cedarwood oil, bergamot oil, lime oil, mandarin oil
Meet the Ingredients:
Kaolin clay adds volume and lift to the hair without drying or breaking it. Kaolin balances moisture on the skin and acts as a powerful cleanser and detoxifier. 
Arrowroot powder absorbs oil, thickens the hair, and adds a lightweight hold while leaving the hair soft and revitalized.
Shavegrass powder is a mineral-rich powder that strengthens the hair and scalp and is known to increase skin elasticity and promote hair growth.
Contents: 4 oz. in glass jar.