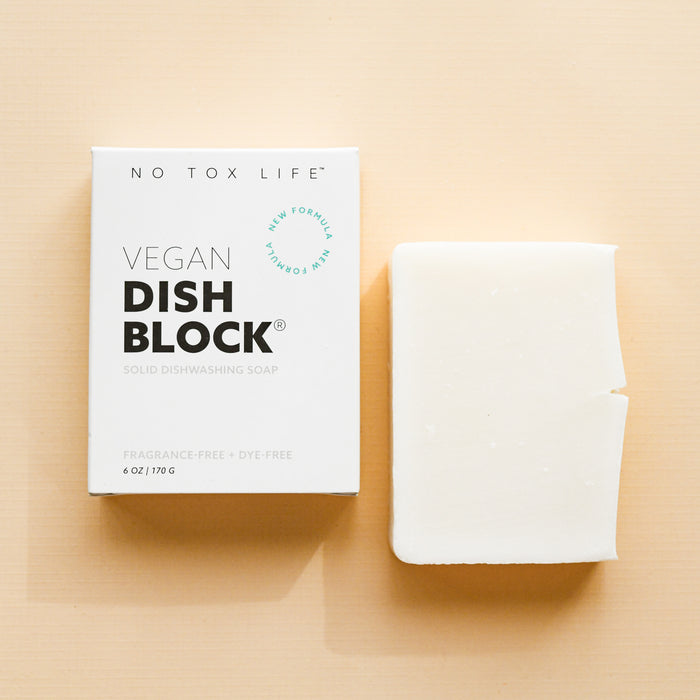 Dish Washing Block
Original price
$11.00
-
Original price
$33.00
This block of solid dishwashing soap gets you one step closer to the plastic-free kitchen you've been working on. Its rich lather cuts through grease on your baking sheet, but, much like liquid dish soap, multitasks magnificently. Use it for cleaning your caked-on cooktop, stain treatment on laundry, or spot cleaning your favorite rugs. You won't miss the plastic bottle by the sink. This Soap Shelf is specifically designed to fit both the "regular" and "huge" options! Looking for something to catch drips from the counter? Check out this Soap Dish.
Ingredients: Sodium cocoyl isethionate, sodium cocoate, alkyl sulfonates, alkyl polyglucosides, sodium carbonate, vegetable glycerin, quillaja saponaria, aloe vera leaf, citric acid, purified water, sodium benzoate
Care & Use Instructions: Keep the block on a well-draining tray and/or dish by the sink, but be sure it isn't sitting in water where it can mold/mildew. Simply rub a wet dish brush or cloth on the soap bar and wash dishes as usual.
Dimensions:
Regular: approx. 4" x 3" x 1"
Huge: approx. 4" x 3" x 3"
Contents:
Regular: 5.9 oz of bar soap, packaged in a recyclable paper box. Replaces one regular-sized bottle of liquid dish soap!
Huge: 22.9 oz of bar soap with a recyclable paper sleeve. Replaces 3-4 bottles of liquid dish soap!
Pictured brushes: Knob Brush, Dish Scrub Brush, Replaceable Head Dish Brush & Loofah Sponges
Looking for liquid dish soap? Check out Clean Plate Club.